If you are having trouble viewing this message, see it in your browser.
Columbia County Tax Payments
Community Bank of Portage will be accepting Columbia County residents second half property tax payments through its drive-up or lobby beginning July 1st - July 31st, 2021. Please remember to present your reminder notice to a bank representative with your payment.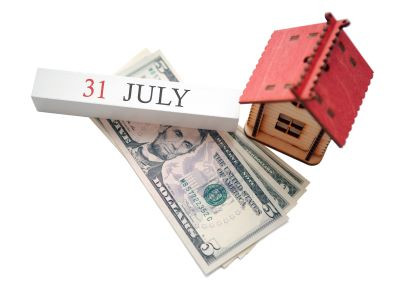 Bank Sponsors 26th Annual Easter Seals Outing
Bank of Wisconsin Dells demonstrated its continued support for the Easterseals Wisconsin Camps by being the presenting sponsor of its 26th Annual Golf Outing for Kids held on June 22nd, 2021. This sponsorship will assist in providing children with disabilities in financial need the opportunity to attend Camp Wawbeek, located in Wisconsin Dells.
The bank has been a long-time partner of Easterseals Wisconsin, helping to ensure the organization continues to meet the ever-increasing need for campers, promoting independence and offering challenge as well as fun.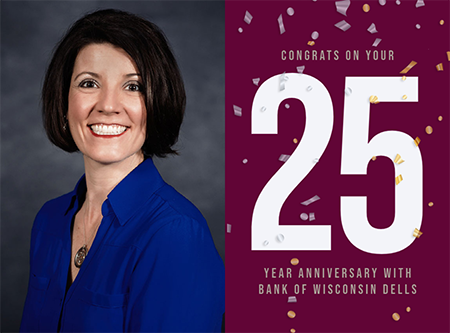 Bank of Wisconsin Dells would like to congratulate Vice President and Human Resources Officer, Molly Bauer, on 25 years with the bank. Molly began her career with Bank of Wisconsin Dells in 1996 as a seasonal Customer Service Representative during high school and continued to work each summer while attending college. After earning her bachelor's degree, she transitioned to the role of Human Resources Assistant and Operational Support. Molly attained the Human Resources Officer role in 2005 and was promoted to Vice President in 2017.
"BWD has been a part of my life for every milestone: graduations, marriage, and children," says Molly. "The bank has provided me opportunities to develop my career and continue growing through continuing education and mentoring. I am fortunate to be with an organization that values work-life balance and I look forward to the next 25 years…or so!"
Anderson Awarded Scholarship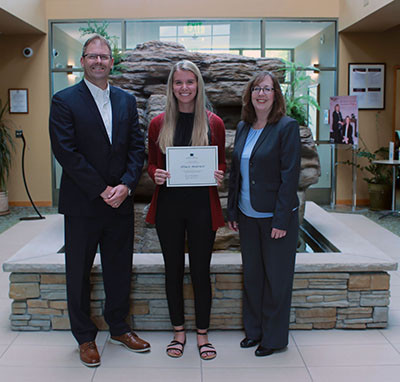 Pictured from left: Scott Rockwell, Allison Anderson and Rose Oswald Poels
The Wisconsin Bankers Foundation has named Bank of Wisconsin Dells Customer Service Representative, Allison Anderson, one of four Wisconsin students to receive a $2,000 scholarship. A selection committee made up of bankers chose the four scholarship winners from nearly 200 applicants. These scholarships are awarded annually to students who are currently pursuing higher education and employed by member banks.
Bank of Wisconsin Dells President and CEO, Scott Rockwell, joined Wisconsin Bankers Foundation Chair, Rose Oswald Poels, in presenting Allison with her scholarship. Allison has worked with the bank for almost three years and will be attending her senior year at UW-Whitewater.

Bank Jugging and How to Stay Vigilant
Bank jugging is a term used to describe a scenario where a robber waits in the parking lot or other area near the bank and observes customers going in and out of the bank location. They look for customers who exit the bank with a deposit bag or a thick cash envelope. Branch lobby entrances, in-store teller lines, drive throughs, and ATMs are prime locations for this to occur.
The customer is followed by the jugger to their next destination, whether it be to the grocery store, gym or home. The jugger will then take the opportunity to either break into their vehicle or rob them directly.
Safety considerations:
Conceal your bank deposit bags, envelopes, etc. as you enter and leave the bank.
Always keep your cash with you when you go to your next destination; never leave it or try to hide it in your vehicle.
Always check your surroundings; if something doesn't seem right, it probably isn't.
When you get back into your car, or are at an ATM drive-through, make sure your doors are locked so no one can force their way in.
If you feel like you're being followed, drive straight to the police station or call 911.
Make the trip to the bank the last stop of your errands.
If possible, vary the time and the route that you use for bank visits.

Bank of Wisconsin Dells
716 Superior Street
Wisconsin Dells, WI 53965