New - Enhancements to Your
Business Banking Services
August 23, 2021
Dear Customer,
We have been busy improving several of our products and services to make your life easier. This month we are showcasing some of these changes and more.
Contactless Card
BAC Debit Cards with the Contactless symbol

on the back are quick, secure and more convenient. No more swiping! A simple tap is all it takes to pay for the things you need.
For more details about BAC Debit Cards, visit www.bankbac.com/Debit
Digital Wallets
Tap. Pay. Go. Making purchases is that easy when you link your BAC Community Bank debit or credit card to your smartphone wallet. Link your card following these simple steps:
Find and open the wallet app on your smartphone.
Click on the "Add Card" option and enter your card information.

For details, please visit www.bankbac.com/eWallets-Biz
Instant Issue -- Get a New Debit Card in Minutes at Any Branch
Get your debit card on the spot with Instant Issue. If you need a new or replacement debit card, you now have the option to receive it at any BAC Community Bank branch office in just minutes.
Learn more and view design options at www.bankbac.com/Instant-Biz
CardValet -- Use Your Mobile Phone to Safeguard Your Business Debit Card
CardValet is a powerful tool to help you manage and safeguard your BAC Business debit card. With this app, you can set spending limits, restrict types of transactions or turn your card on/off. Simply download the app and follow the set-up screens.
For a quick tour, a click-thru demo, and download links, please visit www.bankbac.com/CardValet
MoneyPass® -- Withdraw Money at Over 37,000 Surcharge-Free ATMs
Your BAC Community Bank Debit Mastercard® works at any MoneyPass surcharge-free ATM throughout the United States and Puerto Rico. Whether you need cash when across town or while traveling across the country, MoneyPass ATMs make accessing your BAC accounts simple and convenient.
To find MoneyPass locations or to watch a video on this service, please visit www.bankbac.com/MoneyPass
uChoose Rewards for BAC Business Debit Cards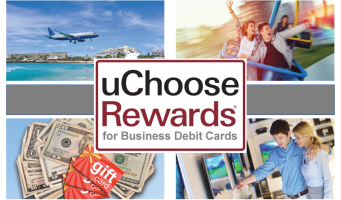 There has never been a better time to start receiving additional benefits for using your BAC Business Debit Mastercard® for business purchases. The more you shop, the more you earn. Simply use your BAC Business Debit Mastercard® at gas stations, retailers, suppliers, or anywhere else. Remember, just choose "Credit" in order to earn points.
For more details, including Frequently Asked Questions, please visit www.bankbac.com/uChoose
Get Financially Fit and You Could Win $2K
Use Online Bill Pay to do any of the following and score entries for a chance to win big. There's no limit to how many entries you can rack up between 8/1/21 - 9/30/21.
Add and pay a new bill (boom!)
Set up a new automatic payment and even make it a recurring one! You can also use same-day Bill Pay. One less thing to track.

Activate a new eBill (done!)
Manage your bills electronically right from your Bill Pay account. Make organizing your finances your new healthy habit.

Make a new transfer (nice!)
Move money to your primary bank account from any financial institution. Heavy lifting done right.
For full details and complete sweepstakes rules, visit www.bankbac.com/GetFit
Always Looking for Better Ways to Serve You
We are constantly evaluating our products and services, and welcome your feedback about how they are working for you. Please share your suggestions and ideas with us by calling 877-226-5820.
It is a privilege to serve you!
Apple, the Apple logo, Apple Pay, and Apple Wallet are trademarks of Apple Inc., registered in the U.S. and other countries. App Store is a service mark of Apple Inc. Google Pay and the Google logo are trademarks of Google LLC. All other names and logos are trademarks and registered marks of their respective owners. All rights reserved.