Proud to be a Community Bank!
April 20, 2021
Dear Customer,
We are inspired by you! Change motivates you…you plan, you pivot, you adapt. And then you do it all over again. We're all excited about what's next!
It's Community Banking Month
Since 1965, BAC Community Bank has been committed to serving our neighborhoods because it's where we live and work. BAC is proud to provide value as a trusted partner. We want to help you achieve your goals, and support you as you navigate your financial journey. To learn more about how BAC supports local communities, and hear from fellow happy customers, visit www.bankbac.com/BankLocal
Showcasing BAC Customer – Lynn & Randy Tei
As we celebrate our community partners, we'd like you to meet Lynn and Randy Tei. The Teis first opened Zephyr Grill & Bar in Livermore in 2004. Twelve years later an opportunity arose to open a restaurant in downtown Brentwood. Lynn explains, "When opening our second Zephyr location in downtown Brentwood, we needed a local bank because our primary bank did not have an East County location." This is when they discovered BAC Community Bank on First Street.
As Lynn notes, this new relationship was to simply fulfill a need for petty cash, but their original bank remained their primary institution. Everything seemed fine, until the pandemic.
"The pandemic has impacted us greatly. We lost more than 50% of our revenue in 2020 as compared to 2019. We furloughed our entire staff not once, but twice, due to government shutdowns of indoor and outdoor dining," says Lynn. So, when the federal Paycheck Protection Program (PPP) was announced, it appeared to be a godsend. The Teis reached out to their primary bank for assistance, but "quickly found out that they were unable or unwilling to process our application," Lynn continues. "We then turned to BAC Community Bank and were immediately walked through the process. If not for the PPP money we received in late April 2020, our company would not have made it through. Fast forward to 2021 and BAC again has helped with another PPP loan that is allowing us to keep a portion of our staff employed through this ongoing crisis. We have since moved our entire banking relationship to BAC Community Bank."
In addition to the two Zephyr locations, Lynn and Randy Tei also opened Smith's Landing Seafood Grill at the Antioch Marina in August of 2018.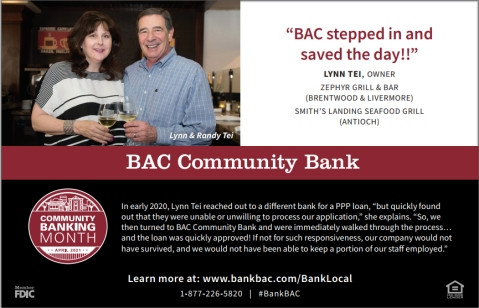 What's New at BAC!
2021 Spring Sweepstakes
You could win $1,000 just for using select features of Online Bill Pay, including Zelle®, now through May 31, 2021. For more details and sweepstakes rules, please visit

www.bankbac.com/Spring2021



Expanded ATM Networks
You can access cash at our expanded national ATM network, which now includes terminals with both the Accel and MoneyPass symbols.

What's an ITM?
Glad you asked! It's an Interactive Teller Machine providing all the functionality of a traditional ATM plus the ability for you to interact with a live bank teller through on-screen video. These new machines have already been installed in our Antioch and downtown Brentwood offices. Ask us for a demo!
Teen Checking with Free Gift (while supplies last)*
Prepare your Teen (ages 14-17) for financial success with a Free Teen Checking Account. No monthly fee + Debit Card + Unlimited Transactions + Mobile and Online Banking to track expenses and monitor activity.
*Visit www.bankbac.com/teen for details.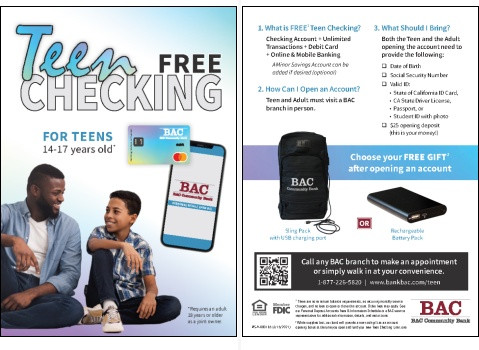 Financial Education Tip
Debit and Credit Card Alerts Help Keep You Safe and Informed
Are you using the power of your credit or debit card to help protect yourself against fraud? By setting up text alerts or notifications you'll know when your card is being used, how much is being spent, and even when it's time to pay your bill. In a world where crooks look for ways to access our accounts, alerts give us an early warning that something might be wrong or needs immediate attention. These powerful safety features can:
Alert you to card use - things like transaction amount, online or phone purchases, foreign purchases, fuel purchases, and ATM withdrawals.




Show your account balances, provide reminders about when a payment is due or when it is received, and display available credit.
Visit our website www.bankbac.com/EducationCenter or stop in to ask about how alerts can help protect you from fraud and keep you informed. Now is the time to turn on the power of account alerts.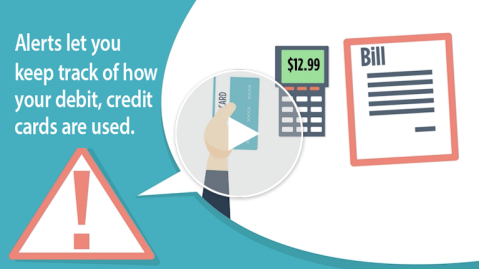 We're in Your Corner
You want a team that's in your corner so you can take on what's next. Connecting people to extraordinary products and services is our Aspiration! If there is anything we can do to help you, please reach out to us at 877-226-5820. Happy Spring!
It is a privilege to serve you!