We Are the Communities We Serve
March 22, 2021
Dear Customer,
Spring has arrived, and there is hope in the air as businesses open up and kids head back to school. We cannot wait for handshakes and hugs once again!
It's Women's History Month
We are celebrating the women of BAC all month long. We are grateful for the privilege to work alongside an amazing team of professionals who care about each other, help each other grow, and display the highest standard of care in their work. We are proud of the tremendous contributions of all of our essential employees this past year, and the leadership provided by our strong, women-led management team.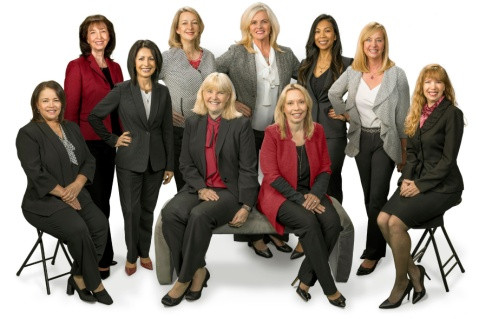 Celebrating National Ag Day on March 23rd
The Ag Council of America hosts "Ag Day", which is about recognizing and celebrating the contributions of agriculture in our lives. We are grateful for the role our Ag partners play in providing safe and abundant foods, and their essential role in maintaining a strong local economy.
Showcasing BAC Customer -- Camera Brothers, LLC
As we celebrate our community Ag partners, we'd like you to meet Patti Azpeitia. She has been serving as the Controller for Camera Brothers, her family's farm, since 1978. Over the years, the farm has produced a variety of crops but is currently focused primarily on walnuts and cherries. Recently Patti and her family expanded their expertise by developing a unique cherry liqueur they have named "Patique", which is available at local Central Valley markets and Total Wine & More.
Camera Brothers has been with BAC since 2011 and received two PPP loans. Patti tells us "BAC was amazing. I tell everyone that the PPP process was so quick, and so easy. BAC had it organized; really really organized". Patti also gave a shout-out to BAC Staff, "I can't say enough about CEO Dana Bockstahler who helped set up the spreadsheets so customer data could simply be plugged in. As I worked late, I would send Dana email messages and she would respond right away -- late at night. That is someone who has their heart and soul in their work". Patti also had high praise for Isaiah De La Cruz and David Juarez who assisted throughout the PPP application process. Thank you for the kind words Patti, and we certainly wish Camera Brothers continued success.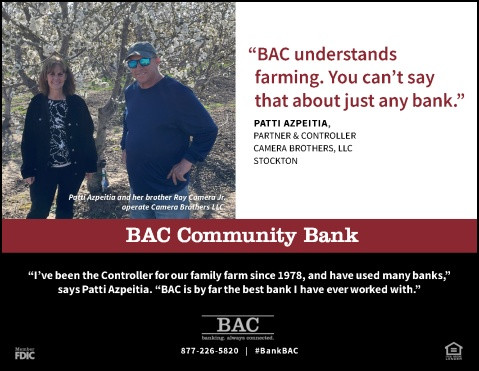 Let BAC Help with your Ag Banking Needs
One of the best things about partnering with BAC is our people and their commitment to excellence. They live in your community, understand your needs and speak your language. Please contact Ag Specialist Barbara Smith directly at 209-333-9648 or Barbara.Smith@bankbac.com for Ag loans and lines of credit, including:
Equipment Financing
Farmland Development Financing
Crop Production Financing
Highlighting FREE Products and Services to help you Manage your Money
FREE Teen Checking
(+ Free gift as of March 31, 2021 and while supplies last) *

Prepare your Teen (ages 14-17) for financial success with a Free Teen Checking Account. No monthly fee + Debit Card + Unlimited Transactions + Mobile and Online Banking to track expenses and monitor balances. You can also add a minor savings account if desired.

*Click here for details.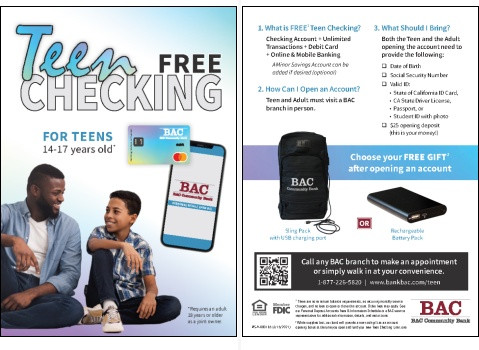 FREE Rent Collection and Security Deposit Management Tools

ZRent automates and simplifies the process of collecting recurring monthly payments or rent. No more trips to the bank, and payments are received on a reliable schedule.
ZDeposit facilitates the management of security deposit funds. It streamlines the opening, funding and management of security deposit accounts, including distribution of funds.
Who can benefit? Property Managers, Landlords, Marinas, Salon Owners or anyone who collects rent. Learn more by visiting www.bankbac.com/ZRent.
Your Peace of Mind in our Branches
We continue to take your health and safety very seriously, and hope you've noticed that each of our branches has been equipped with an automatic hand sanitizer dispenser near the front door. All other safety and sanitizing protocols will remain in place, so please continue to wear masks as a courtesy to our employees and other customers.
If there is anything we can do to better support your financial health, please reach out to us at 1-877-226-5820 – we're here for you.
It is a privilege to serve you!