If you are having trouble viewing this message, see it in your browser.
Rockwell Named Bank of Wisconsin Dells CEO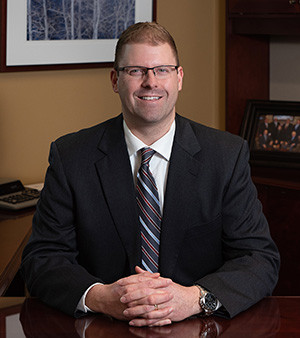 The Bank of Wisconsin Dells Board of Directors have appointed President Scott Rockwell to assume the additional role of Chief Executive Officer (CEO) as of January 1, 2021. Rockwell was promoted to President in 2020 and has accepted the CEO responsibilities from Jon Bernander who will continue in his role as Chairman of the Board.
"I am grateful for the trust placed in me by the Board of Directors and honored to be appointed CEO," stated Rockwell. "I thank Jon for his mentorship, and look forward to building upon his contributions to the bank. We remain fully invested in the future success of our customers, employees and communities we serve, while delivering value to our shareholders."
Rockwell joined the Bank of Wisconsin Dells in 1995 as a Vault Attendant and Customer Service Representative, later transitioning to commercial lending. After working in several areas of the bank, along with attaining his Bachelors, MBA and Graduate School of Banking degrees, Rockwell was promoted in 2018 to Executive Vice President in preparation to succeed Bernander as President and CEO.
Bank Announces Promotions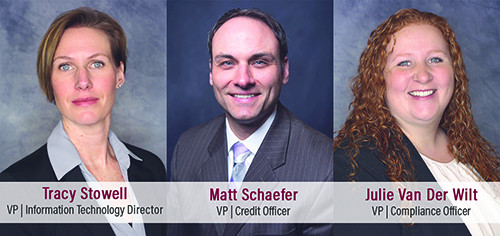 Bank of Wisconsin Dells is pleased to announce the promotion of Tracy Stowell, Matt Schaefer, and Julie Van Der Wilt.
Tracy joined the Bank of Wisconsin Dells in 2003 in our Loan Processing Department. Not long after joining BWD, Tracy was selected for a role in our Information Technology Department and later transitioned to our Deposit Compliance/BSA Officer for a period of time. Tracy was sought out once again for her years of experience in technology and banking as our VP / Information Technology Director.
Matt has been part of the Bank of Wisconsin Dells team since 2003. He began his career with the bank as a Loan Officer and quickly elevated within the organization as VP/Compliance Officer, working with various departments in the bank and fulfilling multiple other roles along the way. Matt is being promoted to VP/Credit Officer as he continues to play a greater role in our credit department.
Bank of Wisconsin Dells welcomed Julie in 2019 as our AVP/Assistant Compliance officer. She has been a great addition to our Compliance team and will lead this department in her new role as VP/Compliance Officer.
Congratulations Tracy, Matt, and Julie on your well-deserved promotions!
Bank Sponsors Aqualean Flower at Reedsburg Area Splash Park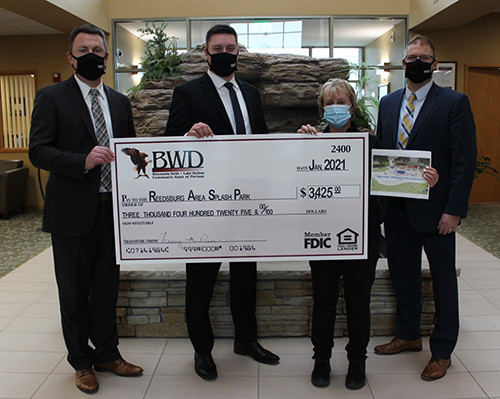 Pictured from left: Brandon Wegner, Brett Schwartzer, Pam Coy, and Scott Rockwell
Bank of Wisconsin Dells is pleased to support the Reedsburg Splash Park Project by presenting a donation of $3,425 to the Beaver Springs Splash Pad. BWD is sponsoring the water feature - Aqualean Flower.
Bank Donates to Sleep in Heavenly Peace - Portage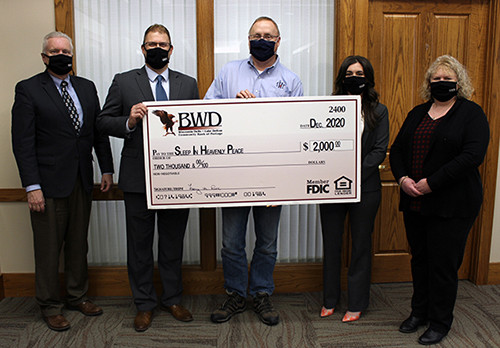 Pictured from left: Dan Timm, Scott Rockwell, Brian Scheilbach, Anastasia Kinney, and Heather Meyer
Community Bank of Portage showed their support for the Portage chapter of Sleep in Heavenly Peace by presenting a $2,000 donation toward furnishing beds for children and families in the area. The organization works to build and supply bed frames, mattresses and bedding for local families who cannot afford to purchase these items. Sleep in Heavenly Peace has built and delivered more than 500 beds in the community since the Portage chapter began in 2018.
Families in need of beds are encouraged to submit a request by visiting www.shpbeds.org/chapter/wi-portage. Beds are available to families as single beds and bunk beds, or a combination of both.
Bank Donates to Reedsburg Area Helping Hands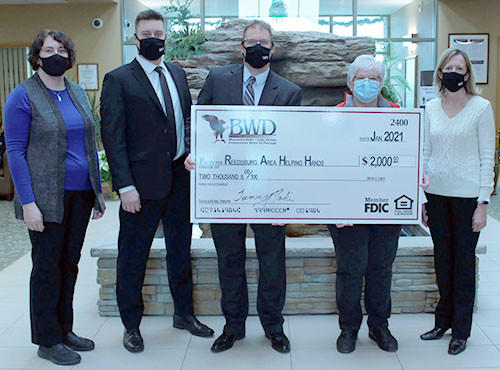 Pictured from left: Sarah Hegg, Brett Schwartzer, Scott Rockwell, Rida Mead, and Kim Pearson
Bank of Wisconsin Dells showed its support for Reedsburg Area Helping Hands by presenting a $2,000 donation toward helping children and families in need. The non-profit serves families within the Reedsburg school district year-round by providing food, clothing, toys and other necessary items.
Anyone wishing to donate to Reedsburg Area Helping Hands can do so. Send monetary donations to Reedsburg Area Helping Hands, 624 N. Willow St., Reedsburg, WI 53959, or visit reedsburgareahelpinghands.org.
Bank Donates to Portage Family Skate Park Project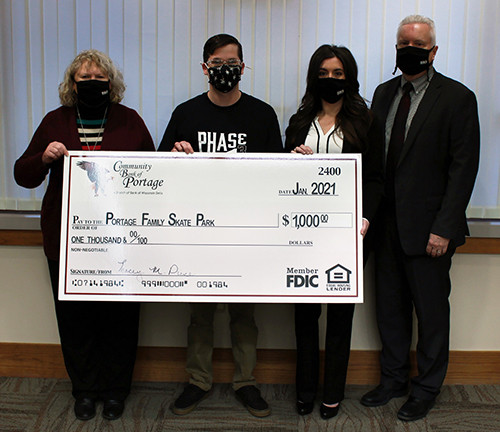 Pictured from left: Heather Meyer, Kyle Little, Anastasia Kinney, and Dan Timm
Community Bank of Portage recently contributed $1,000 to phase three of Portage Family Skate Park's project. The $180,000 project will add 3,525 square feet to the park's existing 10,000 square feet of ramps and skating area.
The group is accepting donations and business sponsorships for its third and final phase for the park. If you would like to donate, visit portageskatepark.org for details, or visit Prairie Flower Beads at 210 W Cook Street in Portage to make a donation and purchase Portage Family Skate Park merchandise.
Quilts of Valor Display at Wisconsin Dells Branch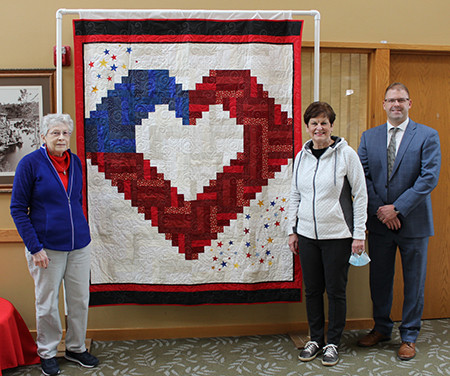 Quilts of Valor, an organization that aims to cover service members and veterans touched by war with comforting and healing quilts, has displayed a quilt in the lobby of our main branch in an effort to promote National Sewing Day on February 6, 2021. The organization hopes to attract volunteers, raise funds and collect as much fabric and quilt-making items as possible leading up to the event. If interested in donating, visit our Dells location or visit http://www.qovf.org/.
What is Spyware?
Despite its name, the term "spyware" doesn't refer to something used by undercover operatives, but rather by the advertising industry. In fact, spyware is also known as "adware." It refers to a category of software that, when installed on your computer, may send you pop-up ads, redirect your browser to certain web sites, or monitor the web sites that you visit. Some extreme, invasive versions of spyware may track exactly what keys you type. Attackers may also use spyware for malicious purposes.
Because of the extra processing, spyware may cause your computer to become slow or sluggish. There are also privacy implications:
What information is being gathered?
Who is receiving it?
How is it being used?
How do you know if there is spyware on your computer?
The following symptoms may indicate that spyware is installed on your computer:
you are subjected to endless pop-up windows
you are redirected to web sites other than the one you typed into your browser
new, unexpected toolbars appear in your web browser
new, unexpected icons appear in the task tray at the bottom of your screen
your browser's home page suddenly changed
the search engine your browser opens when you click "search" has been changed
certain keys fail to work in your browser (e.g., the tab key doesn't work when you are moving to the next field within a form)
random Windows error messages begin to appear
Your computer suddenly seems very slow when opening programs or processing tasks (saving files, etc.)
How can you prevent spyware from installing on your computer?
To avoid unintentionally installing it yourself, follow these good security practices:
Don't click on links within pop-up windows - Because pop-up windows are often a product of spyware, clicking on the window may install spyware software on your computer. To close the pop-up window, click on the "X" icon in the title bar instead of a "close" link within the window.
Choose "no" when asked unexpected questions - Be wary of unexpected dialog boxes asking whether you want to run a particular program or perform another type of task. Always select "no" or "cancel," or close the dialog box by clicking the "X" icon in the title bar.
Be wary of free downloadable software - There are many sites that offer customized toolbars or other features that appeal to users. Don't download programs from sites you don't trust, and realize that you may be exposing your computer to spyware by downloading some of these programs.
Don't follow email links claiming to offer anti-spyware software - Like email viruses, the links may serve the opposite purpose and actually install the spyware it claims to be eliminating.
As an additional good security practice, especially if you are concerned that you might have spyware on your machine and want to minimize the impact, consider taking the following action:
Adjust your browser preferences to limit pop-up windows and cookies - Pop-up windows are often generated by some kind of scripting or active content. Adjusting the settings within your browser to reduce or prevent scripting or active content may reduce the number of pop-up windows that appear. Some browsers offer a specific option to block or limit pop-up windows. Certain types of cookies are sometimes considered spyware because they reveal what web pages you have visited. You can adjust your privacy settings to only allow cookies for the web site you are visiting.
How do you remove spyware?
Run a full scan on your computer with your anti-virus software - Some anti-virus software will find and remove spyware, but it may not find the spyware when it is monitoring your computer in real time. Set your anti-virus software to prompt you to run a full scan periodically.
Run a legitimate product specifically designed to remove spyware - Many vendors offer products that will scan your computer for spyware and remove any spyware software. Popular products include Lavasoft's Ad-Aware, Microsoft's Window Defender, Webroot's SpySweeper, and Spybot Search and Destroy.
Make sure that your anti-virus and anti-spyware software are compatible - Take a phased approach to installing the software to ensure that you don't unintentionally introduce problems.

Bank of Wisconsin Dells
716 Superior Street
Wisconsin Dells, WI 53965