If you are having trouble viewing this message, see it in your browser.
Lobby Access by Appointment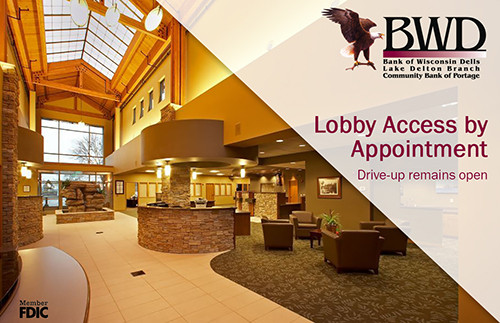 Bank of Wisconsin Dells and its branches are limiting lobby access by appointment only due to the increased number of COVID-19 cases within the state and counties we serve.
All bank services remain available during normal banking hours. We encourage our customers to utilize our drive-up, ATM, online, and mobile banking options. If you aren't able to complete your business through one of these convenient options, please call 608-253-1111 and one of our staff would be glad to assist you by setting up a personal appointment.
Bank Announces Wegner Promotion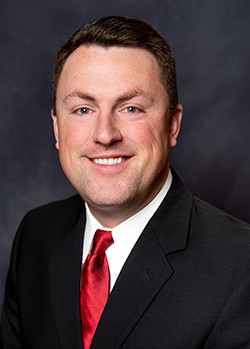 Bank of Wisconsin Dells is pleased to announce the promotion of Brandon Wegner as Chief Lending Officer. Brandon joined the Bank of Wisconsin Dells in 2016 as Vice President/Commercial Loan Officer and has over 17 years of lending experience. He was promoted to Senior Vice President in January of this year.
CBOP Outstanding Citzen Scholarships
The Community Bank of Portage's Outstanding Citizen Scholarship committee awarded its 2020 recipients. Portage High School graduates, Gabrielle Garrigan and Katelyn Zajicek, were each presented their own $2,500 scholarship. This scholarship is awarded each year to two Portage High School seniors who demonstrate a strong commitment to improving the quality of life for people in his or her school and community.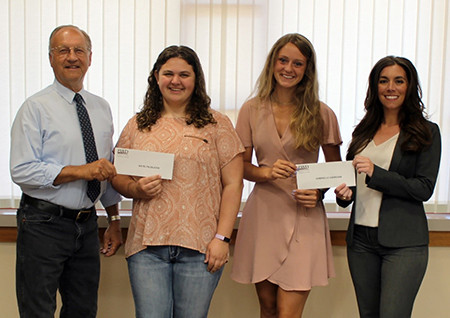 Pictured from left, Ben Brancel, Katelyn Zajicek, Gabrielle Garrigan and Anastasia Kinney.
Bank Continues Support for Easterseals Wisconsin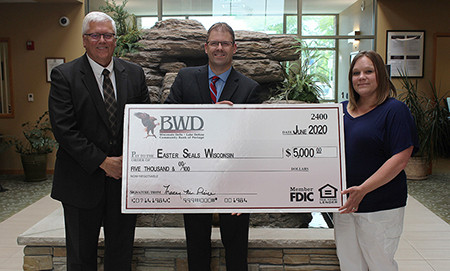 Pictured from left, Jon Bernander, Scott Rockwell and Easterseals' Rachel Reichhoff
Bank of Wisconsin Dells demonstrated its continued support for Easterseals Wisconsin by presenting a $5,000 donation toward providing children with disabilities in financial need the opportunity to attend Camp Wawbeek, located in Wisconsin Dells. The bank has been a long-time partner of Easterseals Wisconsin, helping to ensure the organization continues to meet the ever-increasing need for camperships, promoting independence and offering challenge as well as fun.
Shopping Safely Online
The internet offers convenience not available from other shopping outlets. You can search for items from multiple vendors, compare prices with a few mouse clicks, and make purchases from your home. However, the internet is also convenient for attackers, giving them multiple ways to access the personal and financial information of unsuspecting shoppers. Attackers who are able to obtain this information may use it for their own financial gain, either by making purchases themselves or by selling the information to someone else.
How do attackers target online shoppers?
There are three common ways that attackers can take advantage of online shoppers:
Creating fraudulent sites and email messages

– Unlike traditional shopping, where you know that a store is actually the store it claims to be, attackers can create malicious websites or email messages that appear to be legitimate.

Intercepting insecure transactions

– If a vendor does not use encryption, an attacker may be able to intercept your information as it is transmitted.

Targeting vulnerable computers

– If you do not take steps to protect your computer from viruses or other malicious code, an attacker may be able to gain access to your computer and all of the information on it.
How can you protect yourself?
Do business with reputable vendors

– Before providing any personal or financial information, make sure that you are interacting with a reputable, established vendor.

Make sure your information is being encrypted

– Many sites use secure sockets layer to encrypt information. Indications that your information will be encrypted include a Uniform Resource Locator (URL) that begins with "https:" instead of "http:" and a padlock icon. If the padlock is closed, the information is encrypted. The location of the icon varies by browser; for example, it may be to the right of the address bar or at the bottom of the window.

Be wary of emails requesting information

– Attackers may attempt to gather information by sending emails requesting that you confirm purchase or account information.

Use a credit card

– There are laws to limit your liability for fraudulent credit card charges, but you may not have the same level of protection for your debit cards. Additionally, debit cards draw money directly from bank accounts, unauthorized charges could leave you with insufficient funds to pay other bills.

Check your shopping app settings

– Look for apps that tell you what they do with your data and how they keep it secure. Keep in mind that there is no legal limit on your liability with money stored in a shopping app (or on a gift card).

Check your statements

– Keep a record of your purchases and copies of confirmation pages, and compare them to your bank statements. If there is a discrepancy, report it immediately.

Check privacy policies

– Before providing personal or financial information, check the website's privacy policy. Make sure you understand how your information will be stored and used.

Bank of Wisconsin Dells
716 Superior Street
Wisconsin Dells, WI 53965