If you are having trouble viewing this message, see it in your browser.
Rockwell Named President of BWD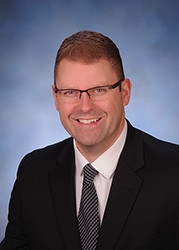 Bank of Wisconsin Dells announces the promotion of Scott Rockwell as President. Scott joined the bank in 1995 as a Vault Attendant and Customer Service Representative. In 1999, he became a Consumer/Residential Lender, and shortly thereafter was promoted to VP/Commercial Loan Officer. Scott was promoted to Executive Vice President in 2018. He assumes the presidency from Jon Bernander who will continue in his role as Chief Executive Officer (CEO).
"Scott has been a loyal employee of the bank since his teenage years, starting in the vault rolling coin," says CEO, Jon Bernander. "He's worked his way up through the ranks over the past 24 years. Along with furthering his educational goals of attaining his Bachelor's and MBA degrees, Scott is a recent alumnus of the University of Wisconsin Graduate School of Banking. The Board of Directors are fully supportive of this transition and are very confident in Scott's leadership abilities."
BWD Continues Support for Education Foundation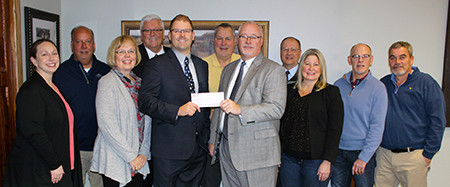 Pictured: Bank of Wisconsin Dells presents donation to Wisconsin Dells Education Foundation's Board
Bank of Wisconsin Dells demonstrates its continued support for Wisconsin Dells Education Foundation by paying out an additional $5,000 for the Valedictorian's second year of college. Each year, the bank awards the Valedictorian of Wisconsin Dells High School with one $5,000 scholarship. With this donation, the bank has grown its endowment large enough to support the Valedictorian's second year as well. The scholarship will be given out in perpetuity.
Share Your Story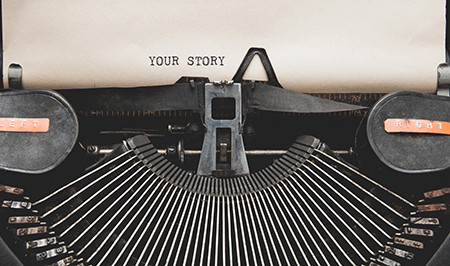 As we celebrate our 110th Anniversary, we'd like to reflect on the past with you. Share your Bank of Wisconsin Dells story to be entered for a chance to win a $110 VISA gift card! Submit your entry HERE.
BWD Announces Promotions
Please join us in congratulating the following employees on their well-deserved promotions!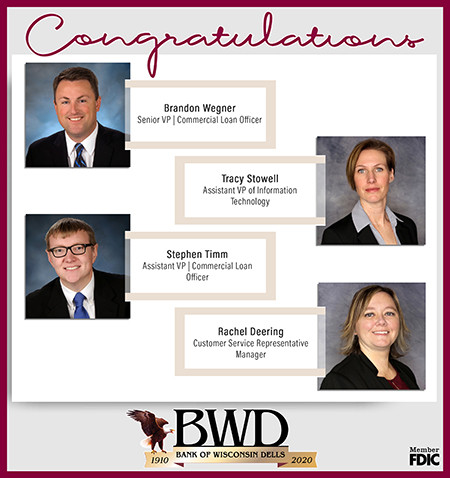 Protecting Your Privacy
How do you know if your privacy is being protected while online?
Privacy Policy

- Before submitting personal information, look for the website's privacy policy. It should state how the information will be used and if it will be distributed to other organizations. Privacy policies sometimes change, so you may want to review them periodically.

Evidence that your information is being encrypted

- Online submissions should be encrypted so that it can only be read by the appropriate recipient. A lock icon in the bottom right corner of the window indicates that your information will be encrypted.
What additional steps can you take to protect your privacy?
Do business with credible companies

- Do you trust the business? Is it an established organization with a credible reputation? Does the information on the site suggest that there is a concern for the privacy of user information? Is legitimate contact information provided? If you answered "No" to any of these questions, avoid doing business online with these companies.

Do not use your primary email address in online submissions

- Submitting your email address can result in spam. If you do not want your email flooded with unwanted messages, consider opening an additional email account to use online. If you create an additional account, be sure to log in to the account on a regular basis in case a vendor sends information about changes to policies.

Avoid submitting credit card information online

- Some companies offer a phone number you can use to provide your credit card information. Although this does not guarantee that the information will not be compromised, it eliminates the possibility that attackers will be able to hijack it during the submission process.

Devote one credit card to online purchases

- To minimize the potential damage of an attacker gaining access to your credit card information, consider opening a credit card account for use only online. Keep a minimum credit line on the account to limit the amount of charges an attacker can accumulate.

Avoid using debit cards for online purchases

- Credit cards usually offer some protection against identity theft and may limit the monetary amount you would be responsible for paying. Debit cards, do not offer that protection.

Take advantage of options to limit exposure of private information

- Default options on certain websites may be chosen for convenience, not for security. If your password is stored, your profile and any account information you have provided is readily available if an attacker gains access to your computer. Also, evaluate your settings on websites used for social networking.

Bank of Wisconsin Dells
716 Superior Street
Wisconsin Dells, WI 53965