If you are having trouble viewing this message, see it in your browser.


Bank of Wisconsin Dells and its branches will be CLOSED on Thursday, November 28th, in observance of Thanksgiving. We will resume regular business hours on Friday, November 29th.
Calling for Hats & Mittens!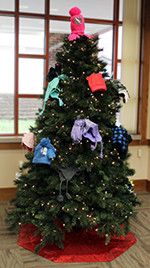 Community Bank of Portage will be collecting hats and mittens from November 29th to December 18th. Donations will be made to the Portage Area Caring Tree, making Christmas a little brighter for those who need a helping hand.

Holiday Shopping Tips
Gift-giving season is just around the corner, and the gift-buying season starts...oh, any minute now. Here are a few tips to help you shop wisely and protect your personal information.
Make a list and a budget. Remember incidentals, like cards and wrapping paper.
Check out websites that compare prices for things sold online, and at stores in your area. It can help you get the best deal.
Make sure the scanned price is right. Overcharges cost you money and time, especially if you don't notice them right away.
Look for rebates. Some can be redeemed at checkout, but most require you to send documentation to the manufacturer to get your rebate.
Read reviews and recommendations to see how the product performs — or people's experience with an online seller. But remember to consider the source.
Be aware that shopping apps can collect a lot of personal information. Look for apps that tell you what they do with your data, and how they keep it secure.
Check the terms of the deal when buying online — including delivery dates and refund policies. Will it arrive in time? And, if it's not what you thought, can you send it back?
Save receipts. When you're shopping online, keep copies of your order number, the refund and return policies, shipping costs and warranties.
Giving bling? Take some time to learn the terms used in the jewelry industry so you can get the best quality and value.
Shipping to loved ones overseas? Check the US Postal Service's calendar for holiday shipping deadlines.
Have packages delivered to a secure location. If you won't be home, have them delivered to work, or see if a neighbor can be on the look-out for deliveries. Consider requiring a signature for delivery — or look for options to pick up your shipment at a local store or mailing center.
For more holiday shopping tips, visit: https://bit.ly/2KtE0Ma
The Benefits of Home Hunting in the Winter

Although it might be cold outside, winter can be a great time to find a hot deal on a home. You might find lower prices, more room for negotiating, and even a faster closing process. Learn more today!

Real-World Warnings Keep You Safe Online
Like the real world, technology and the Internet present dangers as well as benefits. Just as you take precautions to protect yourself in the real world, you need to take precautions to protect yourself online. For many users, computers and the Internet are unfamiliar and intimidating, so it's appropriate to approach them the same way we urge children to approach the real world.
What are some warnings to remember?
Don't trust candy from strangers

- Finding something on the Internet does not guarantee that it is true. Before accepting a statement as fact or taking action, verify that the source is reliable. Also verify that an email is legitimate before opening an unexpected email attachment or responding to a request for personal information.

If it sounds too good to be true, it probably is

- Beware of grand promises - they are most likely spam, hoaxes, or phishing schemes. Also be wary of pop-up windows and advertisements for free downloadable software - they may be disguising spyware.

Don't advertise that you are away from home

- Some email accounts offer a feature that allows you to create an "away" message if you are going to be gone. The message is automatically sent to anyone who emails you while the autoresponder is enabled. While this is a helpful feature for letting your contacts know that you will not be able to respond right away, be careful how you phrase your message. You do not have to let potential attackers know that you are not home or give specific details about your location or itinerary.

Lock up your valuables

- If an attacker is able to access your personal data, he or she may be able to compromise or steal that information. Take steps to protect this information by following good security practices.

Have a backup plan

- Since your information could be lost or compromised, make regular backups of your information so that you still have clean, complete copies. Backups also help you identify what has been changed or lost. If your computer has been infected, it is important to remove the infection before resuming work. Keep in mind that if you did not realize that your computer was infected, your backups may also be compromised.

Bank of Wisconsin Dells
716 Superior Street
Wisconsin Dells, WI 53965