If you are having trouble viewing this message, see it in your browser.


Planning a Trip?
To help ensure uninterrupted service of your debit card while you travel, let us know your travel plans.
You can now submit a travel notice to us with the SHAZAM BOLT$ mobile app. Simply tap on "Manage travel notices" on the menu screen, follow the prompts and provide us your travel dates and destinations.
Submitting a travel notice is a good idea, so we aren't surprised when we see debit card purchases originating from an unusual area, such as another state or country. It's possible we might flag those transactions as fraudulent and put a hold on your card until we find out for sure. Telling us when you're traveling helps us identify legitimate transactions quickly.
Download this powerful mobile app today. Search "SHAZAM BOLT$" in your app store to learn more and to download.
Bank Supports Fight Against Breast Cancer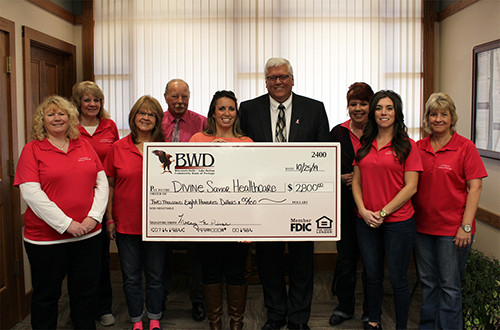 Bank of Wisconsin Dells and Community Bank of Portage donate $2,800 to Divine Savior Healthcare's Cancer Fund to support the fight against breast cancer. Pictured from left: Heather Meyer, Rodnie Miller, Barb Marz, Bob Wachuta, Divine Savior's Dr. Jill Pogorelec, Jon Bernander, Crystal Sampson, Anastasia Kinney and Lisa Weaver.
Each week of October, donations were collected from bank employees participating in what is referred to internally as "Go Pink Fridays". Employees were given the option to donate $5.00 each week to wear jeans and a pink shirt on that corresponding Friday. In addition to this internal fundraiser, each branch lobby had a Breast Cancer Awareness display encouraging customers to participate in a fun game of Plinko by donating $1. All proceeds were collected and match by the bank.
Bank Welcomes Schwartzer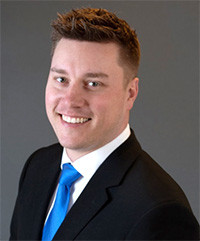 Bank of Wisconsin Dells is pleased to announce the hiring of Brett Schwartzer as Vice President/Commercial Loan Officer. Brett, a native to Wisconsin Dells, graduated from Cardinal Stritch University with a Bachelor's degree in Business Management. He began his financial career after serving in the Marine Corps from 2005 to 2009. Brett has 10 years of commercial lending experience.
In his role at the Lake Delton branch, Brett will be working with commercial customers, assisting them in attaining their financial goals.
Bank Announces Promotions
Bank of Wisconsin Dells is pleased to announce recent staff promotions. Please join us in congratulating the following employees on their well-deserved advancements.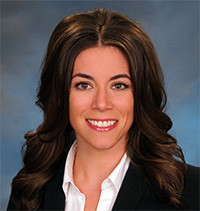 Anastasia Kinney | Business Development Officer
As a corporate officer, Anastasia's role expands in the commercial lending field. Anastasia has done a wonderful job of promoting Bank of Wisconsin Dells and Community Bank of Portage in surrounding communities, while developing relationships and deposit accounts for the bank.
---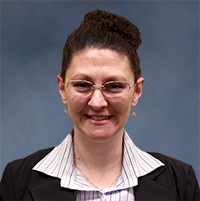 Amanda Garwood | Controller
As Controller, Amanda will oversee accounting and finance functions, working alongside the bank's CFO. Amanda has excelled as a Credit Analyst for the bank and has considerable background and experience in accounting.
Mobile Banking: It's Safe and Easy

Security is at the core of our easy-to-use mobile banking app. We want you to know that your accounts are protected by multiple layers of security whenever and wherever you log in with our app, so you get safe, secure access to your accounts day or night. Learn more today!

Reducing Spam
Spam is the electronic version of "junk mail". The term spam refers to unsolicited, often unwanted, email messages. Spam does not necessarily contain viruses-valid messages from legitimate sources could fall into this category.
How can you reduce the amount of spam?
Be careful about releasing your email address - Think twice before you respond to any requests for your email address, on the web, verbally, or on paper. Spammers can harvest any email address posted on a website.
Check privacy policies - Before submitting your email address online, look for a privacy policy. Most reputable sites will have a link to their privacy policy from any form where you're asked to submit personal data.
Be aware of options selected by default - when you sign up for some online accounts or services, there may be a section that provides you with the option to receive email about other products and services. Sometimes there are options selected by default, so if you do not deselect them, you could begin to receive email from those lists as well.
Using Filters or Spam Tagging - Many email programs offer filtering capabilities that allow you to block certain addresses or to allow only email from addresses on your contact list. Many ISPs also offer spam tagging services that allow the user the option to review suspected spam messages before they are deleted.
Report messages as spam - Most email clients offer an option to report a message as spam or junk. If your client has that option, take advantage of it.
Don't follow links in spam messages - Unwanted messages that offer an "unsubscribe" option are particularly tempting, but this is often just a method for collecting valid addresses that are then targeted for other spam.
Disable the automatic downloading of graphics in HTML mail - Many spammers send HRMP mail with a linked graphic file that is then used to track who opens the mail message. Disabling HTML mail entirely and viewing messages in plain text also prevents this problem.
Consider opening an additional email account - Many domains offer free email accounts. If you frequently submit your email address, you may want to have a secondary email account to protect your primary email account from any spam that could be generated.
Use privacy settings on social networking sites - Social networking sites typically allow you to choose who has access to see your email address. Consider hiding your email account or changing the settings so that only a small group of people that you trust are able to see your address.
Don't spam other people - Be a responsible and considerate user. Some people consider email forwards a type of spam, so be selective with the messages your redistribute.
For more information, visit: https://www.us-cert.gov/ncas/tips/ST04-007

Bank of Wisconsin Dells
716 Superior Street
Wisconsin Dells, WI 53965