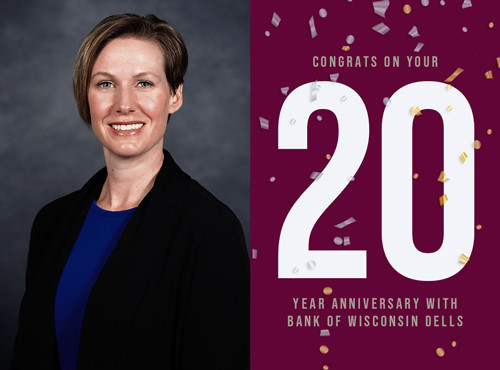 Please join us in congratulating Tracy Stowell, VP | Information Technology Director, on her 20th Anniversary with Bank of Wisconsin Dells on February 10th! She takes the lead of our Information Technology Department and ensures that our customer experience with our online systems run smoothly. Thank you for your continued service to BWD, Tracy!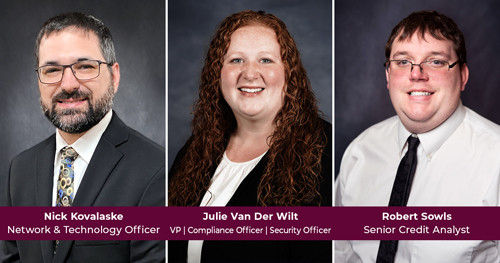 Please join us in congratulating the following employees on receiving promotions at the start of 2023!
Nick Kovalaske has been promoted to our Network & Technology Officer. He has been with BWD of over 18 years and is a vital part of our Information Technology team.
Dr. Julie Van Der Wilt has been been promoted to VP | Compliance Officer | Security Officer. She has been a part of our Compliance Department for over 3 years and we look forward to her continued growth.
Robert Sowls has been promoted to Senior Credit Analyst. He will continue to serve our lending customers through his work in the Credit Department.
Thank you for your continued service to our customers and congratulations on your well-deserved promotions!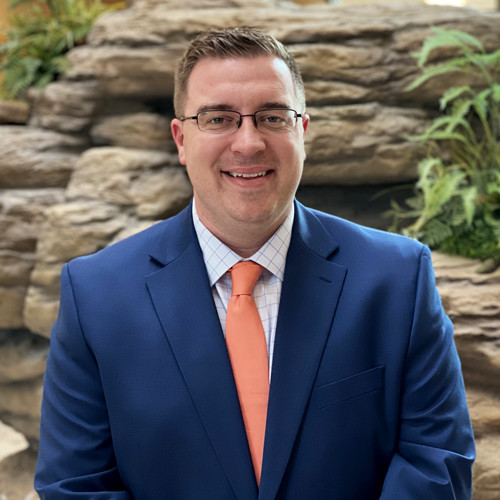 It is our pleasure to introduce to you our new VP | Commercial Loan Officer, Ethan Giebel! Ethan will be working out of our Dells location and brings over 5 years of experience to the team. In his role, Ethan will be working with local businesses and assisting them in attaining their financial goals. Welcome Ethan!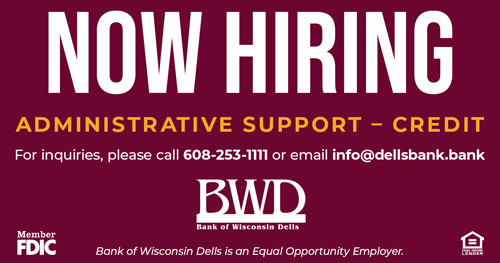 We are searching for a full-time Administrative Support professional to join our Credit team.
Benefits include health and dental insurance, paid time off, and generous 401k match. Starting wage is dependent on experience.
For more information and to apply, visit dellsbank.bank/employment-opportunities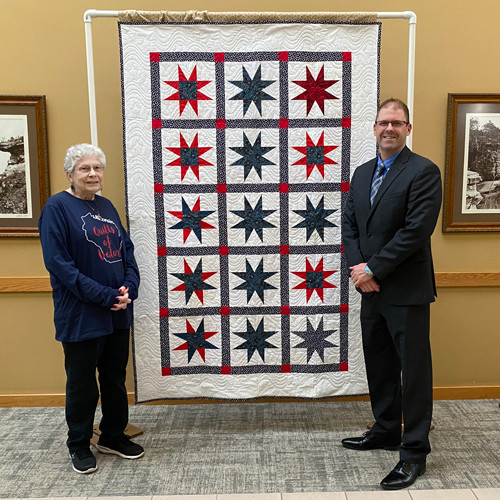 Visit our Dells location to see the beautiful Quilts of Valor (QOV) display in our lobby! QOV aims to cover service members and veterans touched by war with comforting and healing quilts. If interested in donating, stop in our Dells location or visite www.qovf.org.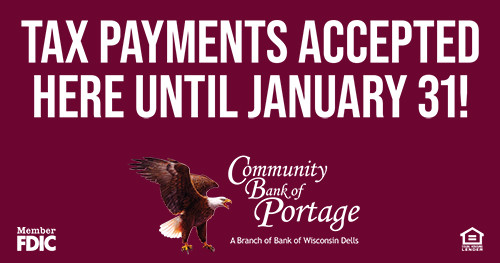 Attention all City of Portage and Town of Pacific residents!
There is still time to visit the Community Bank of Portage to make your tax payments. Until January 31st, our friendly staff will be ready to assist you. Please have your reminder notice ready to present to a bank representative upon arrival.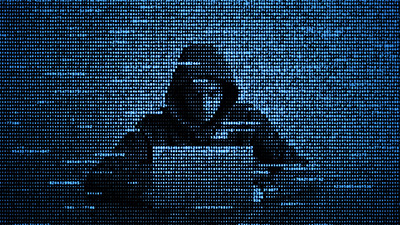 Emotional Triggers - How Cyber Attackers Trick You
Cyber attackers are constantly innovating ways to trick us into doing things we should not do, like clicking on malicious links, opening infected email attachments, purchasing gift cards or giving up our passwords. In addition, they often use different technologies or platforms to try to trick us, such as email, phone calls, text messaging, or social media. While all of this may seem overwhelming, most of these attacks share the same thing: emotion. By knowing the emotional triggers that cyber attackers use, you can often spot their attacks no matter what method they are using.
Click here to find out how you can defend yourself against cyber attacks.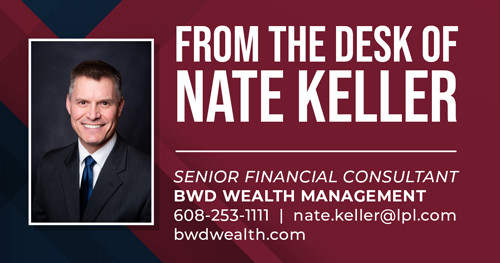 We wish you a happy New Year and hope you were able to close out 2022 with friends and family. The beginning of a calendar year is often the time when the previous year's reflections transition to a new year's hopes. Given the market's continued instability during 2022 and a resulting tough period for stock and bond prices, everyone is hoping for a fresh start.
Read More...

Bank of Wisconsin Dells
716 Superior Street
Wisconsin Dells, WI 53965