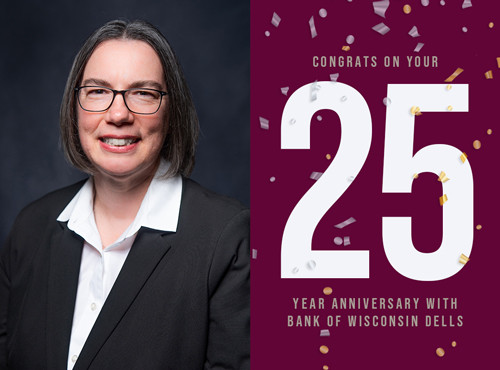 Theresa Hoppmann Celebrates 25 Years
Congratulations to Theresa Hoppmann on her 25 year anniversary with BWD on September 8th! Theresa is our AVP/Personal Banking Officer at our Portage branch. Thank you for your hard work, exceptional customer service, and dedication to your team and the Portage community!

Thank You Customers!
Thank you to everyone who visited us these last two weeks to help celebrate our Customer Appreciation Days! We had a wonderful turnout and it was great to see you all!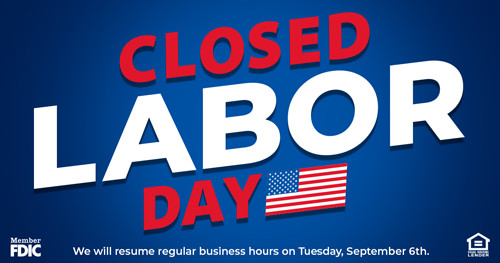 Labor Day weekend is approaching and we hope you enjoy it to the fullest! In observance of the holiday, BWD and its branches will be closed Monday, September 5th. We will resume regular business hours on Tuesday, September 6th.
Businesses: On Sunday, September 4th from 9am-11am, our Dells and Lake Delton drive-ups will be open for commercial change orders only.

Watch Out For Callers Claiming To Be From Your Bank
Are you getting a bad feeling about that person on the phone asking for your personal information? Here are some important things to think about if someone calls claiming to be from your financial institution.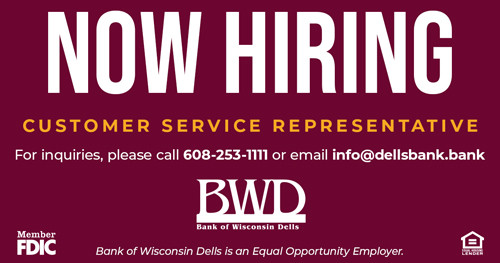 We're looking for a friendly, flexible, and motivated person to join the CSR/Teller team! This job demands attention to detail, a positive attitude, flexibility in scheduling, and the ability to handle multiple tasks. Previous cash handling or bank experience a plus, but not required.
Our starting wage is commensurate with experience and quite competitive.
Visit dellsbank.bank/employment-opportunities for more information and to apply.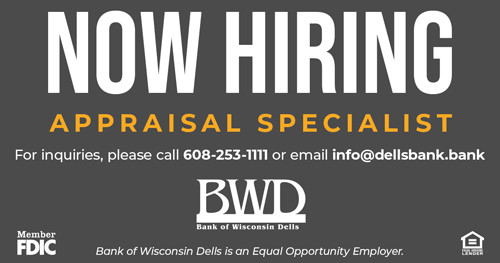 We are looking for a self-motivated individual with strong attention to detail who enjoys working with a team to join our growing strong independent community bank as an Appraisal Specialist. This position reviews commercial and residential appraisals, and prepares property evaluation reports. The Appraisal Specialist is also responsible for managing the pipeline to ensure deadlines are maintained.
Benefits include health and dental insurance, paid time off, and generous 401k match. Starting wage is dependent on experience. Please include expectations with online application.
Visit dellsbank.bank/employment-opportunities for more information and to apply.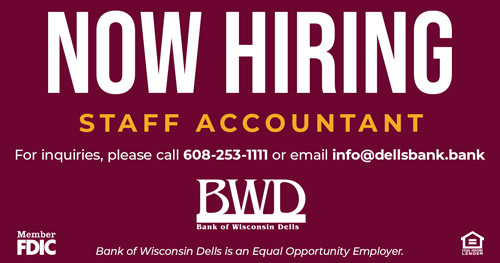 Seeking a staff accountant to grow our accounting department which assists the CFO and Controller. This position aids in servicing the bank's bond portfolio, and performs general accounting duties in accordance with procedures and accounting practices.
Full-time position includes health and dental insurance, generous 401k match, and paid time off.
Visit dellsbank.bank/employment-opportunities for more information and to apply.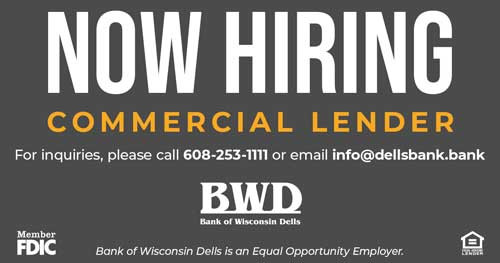 We are looking for an experienced Commercial Lender to join our team. This position involves developing new business, including outbound calling efforts, and servicing existing customers. BWD also expects active involvement in the communities we serve.
For more information and to apply, visit dellsbank.bank/employment-opportunities