If you are having trouble viewing this message, see it in your browser.
Welcome Eric!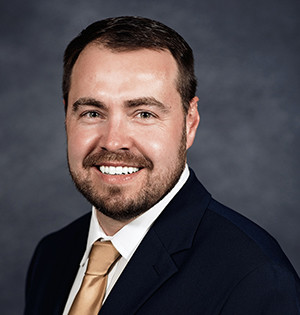 Please join us in welcoming Eric Czarnecki, AVP | Commercial Loan Officer, to our Community Bank of Portage and Lending teams.
Eric grew up in Mauston, WI where he graduated from high school. He then went on to earn his bachelor's degree in Finance from UW-La Crosse and his MBA from the University of Wisconsin MBA Consortium. Eric has lived in Tomah for the past several years but is moving to Portage upon completion of his new house in May.
In 2002, Eric started working in the banking industry at the Bank of Mauston, Dells Delton branch. There, he worked as a Customer Service Representative. He tellered and opened new accounts for customers.
Eric has two daughters, one in seventh grade and one in tenth grade. They like to spend time together playing board games and ping pong, watching TV, and going to the Mall of America. Both girls take piano lessons and play percussion instruments in band, but his younger daughter, Jillian, likes to draw, play video games, ride horses, and go on bike rides. Eric's older daughter, Olivia, will be getting her license and running track this spring. Her main interests include listening to music, reading, playing tennis, and powerlifting.
Family and friends would say that Eric is someone who can get along with anyone and is a good listener. They might also mention that he is really competitive but someone who is more about gaining friendships and learning from competing than someone who is all about winning.
Outside of work, Eric likes being active, which he says, "helps [him] stay young and feel energetic." He enjoys running and playing competitive pool, tennis, and pickleball. He recently served on the Board of Directors while being a part of their Finance Committee for the Deke Slayton Space Museum. Eric plans to get involved in the Portage community.
Eric is excited to help the Portage area grow and prosper and to be part of the BWD team.
Welcome Eric.
Scheduled Lot Maintenance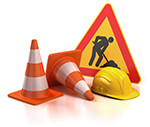 Community Bank of Portage has scheduled parking lot maintenance beginning April 20th through April 30th.
During this time, all bank services will be available to customers during normal banking hours.
Thank you in advance for your patience.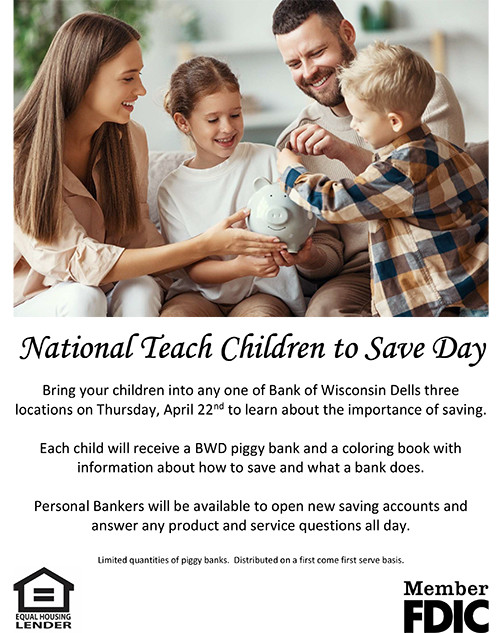 Thurday, April 22nd is National Teach Children to Save Day. To celebrate, all BWD branches will be handing out BWD piggy banks and coloring books to all children that stop in on that day. Supplies will be delivered to branches on Wednesday, April 21st for distribution the next day. If you have any questions, please reach out to Amira or Jill R.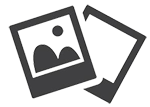 Annual Stockholder Meeting Photos
This year's Annual Stockholder Meeting was held at Crystal Grand Music Theatre in Lake Delton. In case you missed it, check out the photos using the below network file path:
\\bwd2019\home\SHARED\Digital Pictures\2020 - 2021\Stockholder Meeting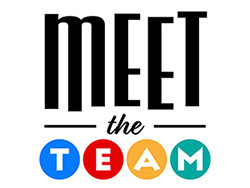 We continue our monthly feature with:
Tammy Maki - SVP | Chief Operations Officer
Where did you grow up and go to high school/college?
I was born and raised right here in Wisconsin Dells, then spent 4 1/2 years at UW-Whitewater earning my degree in Finance with an emphasis in Real Estate. After college, I earned my Real Estate license and then worked for Bluegreen (Christmas Mountain) in their telemarketing office. I moved to a resort of theirs in Gordonsville, VA to help start the inbound telemarketing program.
How long have you been with BWD?
I started with BWD in 1994 as a part-time teller. I moved to the IT Department a year after I started, and 27 years later, I'm still here.
What hobbies do you enjoy? What organizations are you involved in outside of work?
My husband and I spend our time kayaking, hiking, watching/playing sports. We take every opportunity we can to listen to live music, especially up-and-coming artists. The talent out there is amazing and the Dells area is very blessed with an awesome music scene.
What are three interesting/fun facts about you?
1) I am the only sibling not to win a state championship in baseball/softball, but I'm positive I was the best athlete in the family - just ask me!
2) I love to golf and have had a hole in one. 1st hole of the day at the Fisher Open a few years ago - makes for a long day.
3) I have mirror image twin daughters who just turned 27. They were in the same class as Maggie and Ana.
What's the furthest you've ever been away from home?
I've traveled to Hawaii and the Dominican Republic. Bucket list trip would be Ireland. And I just bought a timeshare, so it seems the options are endless.
Who will be our lucky employee next month? Will it be you?
Using Caution with Email Attachments
While email attachments are a popular and convenient way to send documents, they are also a common source of viruses. Use caution when opening attachments, even if they appear to have been sent by someone you know.
Why can email attachments be dangerous?
Some characteristics that make email attachments convenient and popular also make them a common tool for attackers:
Email is easily circulated – Forwarding email is so simple that viruses can quickly infect many machines. Most viruses do not even require users to forward the email—they scan a users' mailbox for email addresses and automatically send the infected message to all of the addresses they find. Attackers take advantage of the reality that most users will automatically trust and open a message that comes from someone they know.
Email programs try to address all users' needs – Almost any type of file can be attached to an email message, so attackers have more freedom with the types of viruses they can send.
Email programs offer many "user-friendly" features – Some email programs have the option to automatically download email attachments, which immediately exposes your computer to viruses within the attachments.
What steps can you take to protect yourself and others in your address book?
Be wary of unsolicited attachments, even from people you know. Just because an email message looks like it came from someone you know does not mean that it did. Many viruses can "spoof" the return address, making it look like the message came from someone else. If you can, check with the person who supposedly sent the message to make sure it's legitimate before opening any attachments. This includes email messages that appear to be from your internet service provider (ISP) or software vendor and claim to include patches or antivirus software. ISPs and software vendors do not send patches or software in email.
Keep software up to date. Install software patches so that attackers can't take advantage of known problems or vulnerabilities. Many operating systems offer automatic updates. If this option is available, you should enable it.
Trust your instincts. If an email or email attachment seems suspicious, don't open it, even if your antivirus software indicates that the message is clean. Attackers are constantly releasing new viruses, and the antivirus software might not have the signature. At the very least, contact the person who supposedly sent the message to make sure it's legitimate before you open the attachment. However, especially in the case of forwards, even messages sent by a legitimate sender might contain a virus. If something about the email or the attachment makes you uncomfortable, there may be a good reason. Don't let your curiosity put your computer at risk.
Save and scan any attachments before opening them. If you have to open an attachment before you can verify the source, take the following steps:

Be sure the signatures in your antivirus software are up to date.
Save the file to your computer or a disk.
Manually scan the file using your antivirus software.
If the file is clean and doesn't seem suspicious, go ahead and open it.

Turn off the option to automatically download attachments. To simplify the process of reading email, many email programs offer the feature to automatically download attachments. Check your settings to see if your software offers the option, and make sure to disable it.
Consider creating separate accounts on your computer. Most operating systems give you the option of creating multiple user accounts with different privileges. Consider reading your email on an account with restricted privileges. Some viruses need "administrator" privileges to infect a computer.
Apply additional security practices. You may be able to filter certain types of attachments through your email software or a firewall.
Watch Out For Caller ID Spoofing Phone Calls

Your telephone can be a gold mine to scammers hoping to trick you into divulging personal information. Find out what you can do to prevent caller ID spoofing and why you should think before you talk.

Bank of Wisconsin Dells
716 Superior Street
Wisconsin Dells, WI 53965